Model NO.:

Seabay International Freight Forwarding Ltd.

Shipment Type:

FCL and LCL

Departure:

China

Transit Time:

15-30 Days

Cargo Type:

General Cargo

Competitive:

China Shipping for Consolidated Sea/Air Cargo

Warehouse:

Reliable and Safe

Service:

Main Ports in China

Trademark:

Seabay International Freight Forwarding Ltd.

Origin:

China(Mainland)
Route:

International

Type:

Combined Transport

Destination:

Worldwide

Total Supply:

8000-10000 kg

Departure Day:

Daily

Professional:

Consolidation Service & Door to Door Service

Feedback:

Daily Weekly

Customs Clearance:

Yes

Specification:

Class a

HS Code:

2601200000
Choose Seabay, your business will be in good hands.
With 17
 
year
s
 experience on international logistics, Seabay offers more professional & excellent services 
to lead you success.
Our mission is to provide the best solution to your cargo and create value for our customers. 
Our main services which can greatly create value:
Consolidation, Competitive ocean & air freight from all over China main ports & Quality inspection.
 
@@Company Information
A. SGS Verified Supplier & Alibaba 10 Years Golden Supplier, established since 1997
B. 3000 Alliance Members in Main Cities & Ports all over the world
C. China Licensed Class-A Freight Forwarder, WCA, CGLN & APLN Membership
D. Shenzhen Headquarters, Guangzhou Branch and Operating Branches in all over China.
@@Main Service 
A. Contracted Steady Sea & Air Freight with Top 10 Liners. 
     Airline AA,DHL,EK,KQ,CZ,CA and liner MSK,CSCL,COSCO, MSC, EMC and so on
B. Consolidated Shipping Service
C. Door to Door Shipping Service
D. Packing & Repacking Service
E. Dropshipping Service to Protect Business Secret
F. Documentation Service (EP. Fumigation, Certification of Origin, Customs Document and etc.)
G. Quality Control, Insurance, Daily Feedback, Sourcing Agent and etc.
@@Introduction of Consolidation Shipping Service
Advantage: Money & Time Save as cargo will load in a shipment to decrease shipping cost, 
customs clearance fee and get the goods altogether.
A. Cargo from different manufacturers will be consolidated in one warehouse and loaded in one container or flight.
B. Warehouse Storage for 7 Days Free, Packing & Repacking Service, 
     Cargo Inspection and Supervision of Loading are available.
C. One set of Packing List & Commercial Invoice, Bill of Landing and etc.will be issued on behalf of the Shipper.
D. Do Customs Declaration & Clearance and Door to Door Service.
E. Provide Sourcing Agent Service, Insurance Service, Packing & Repacking Service.
@@FAQ
Q: How to get a quote?
A: Please provide the volume, weight, cargo name, port of loading and port of discharge. 
    The targeted service, Sea Shipping, Air Shipping, Door to Door Service or Consolidation Service.
    If you do not have full information on hand, a rough quote will be offered accordingly.
 
Q: How can I track the cargo?
A: Daily & Weekly Feedback is one of most competitive advantage for Seabay Logistics. 
     We will also provide all documents which clients are able to check online or with carrier.
 
Q: How can I pay the freight? What payment terms do your company accept?
A: Air & Courier freight shall be paid before cargo on board.
    Sea freight shall be done before cargo arrive destination. 
    TT, West Union, Paypal are available.
 
 
Click 
"
Contact Now
"Â 
or
 "
Talk to me
 "
on right side to get more information.
Miss Suzanne Lee
Tel:Â 0086-20Â 8753Â 7733Â Â Â Â Â Â Â Â 
Mobile:Â 00Â 86Â 15920112830
 
Seabay International Freight Forwarding Ltd.
Due to the local customs policy, Canada data is with two kinds of data, Canada buyer list (with company name by HS code) and
Canada statistics data (with price, quantity by HS code).
It supports to be checked in the GTO database, without any limitation on HS code or company searching.
If you're thinking about entering a new market, but are not sure which, our data can prioritize target markets.
If you're looking for importers, distributors, potential end customers, or partners, our data can screen out them.
Canada Import Data monthly summary Report for Chapter 29 from China: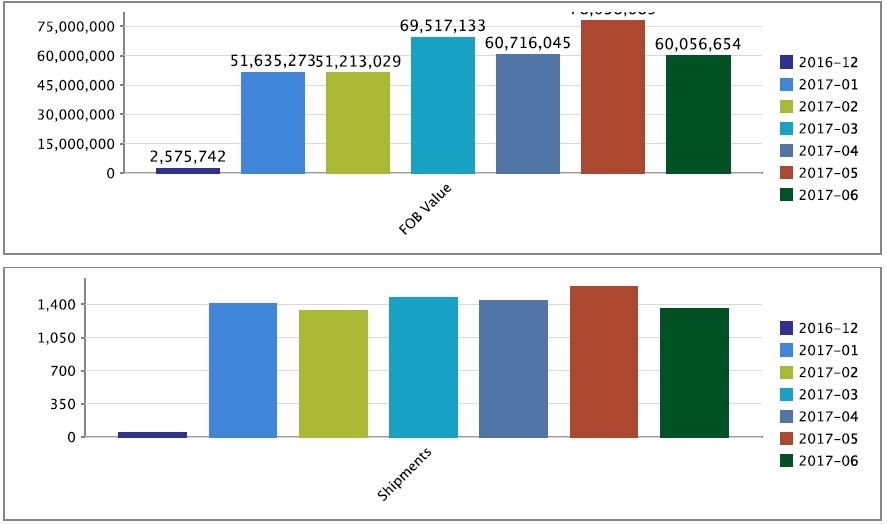 Canada Trade Data,Canada Exports,Canada Import Report,Canada Export Report,Canada Customs Data
Global Trade Online Limited , http://www.gtodata.com