[Maidian.com] Shanda Chairman and CEO Chen Tianqiao said that Shanda is planning to enter the traditional tourism business, but will never repeat the traditional tourism business model. This is also the first time Chen Tianqiao has openly talked about...
[Maidian.com] Shanda Chairman and CEO Chen Tianqiao said that Shanda is planning to enter the traditional tourism business, but will never repeat the traditional tourism business model. This is also the first time Chen Tianqiao has publicly talked about the grand tourism business. What we are more interested in is, what brand will Shanda Tourism play?
The author observes three possibilities: First, online game culture cards. This is the foundation of grandness, and it is impossible not to involve it. In fact, we also see that Shanda Tourism will be composed of a new online community and an acquired green passenger tour offline service. The attractions include Longchuanxia "Aion Tower" and Wuxi Internet of Things.
When it comes to theme parks, we know that the most successful is Disney, and their theme parks are world-renowned. Disney's greatest value lies in its strong cultural industry chain. The cultural content with brand influence is passed down from generation to generation. Relying on cultural content, Disney's theme parks and derivative consumer goods are very profitable. Disney is a movie, re-developing theme parks, audiovisual products, stage plays, consumer goods and other profit points. The theme park is a part of Disney.
For Shanda, the Disney model has a lot to learn from. In fact, Chen Tianqiao has always been eager to enlarge and strengthen his "Internet Disney Kingdom", then when building a grand tour, network culture is the basic element that must be implemented.
Second, Chen Tianqiao revealed that Shanda "is planning to use new technologies and enter the traditional tourism business in an innovative way". We are concerned with the two terms of new technology and innovation. The success of Shanda Tourism will also be fully reflected in these two points.
As early as 2009, Green Travel has cooperated with Shanda Games and Shanda Online to provide free rides for Longchuanxia Scenic Spot for players of Dreamland and customers who have recharged on Shanda Online. Moreover, Green Travel also has the instructions for using the "Shengda Tourism Taoran Card" in the eye-catching position on the homepage of its website. This is all kind of innovation. Of course, this is not enough. The introduction of community culture may provide more opportunities for the development of Shanda Tourism.
It is reported that Longchuan Gorge has received a lot of self-help tour groups from all over the world, and Shanda has also done a good online and offline interaction. For example, using the story of "The Miracle" to defeat the fear of the flames of the devil, the "Torch Festival" is held; the staff members play the role of the "Legend" series of games lurking in the tourists, and the careful tourists can find it. Lucky prize.
Third, the team strength brings the bonding of community culture. Chen Tianqiao said that "Shengda will make full use of its scale, expertise and interactive entertainment experience to provide next-generation entertainment applications. This is in line with our long-term commitment to promoting online and offline interactions for users, as well as virtual worlds and realities. The integration of the world provides convenience."
It is reported that the entire product team of Shanda Tourism is from Google China. From the perspective of personnel structure, a common feature is that most of these people are from the Internet community. Therefore, Shanda Tourism will not only do ticketing, but will not focus on tourism information, but on the community. The goal is actually to serve the grand theme park. As we all know, Chen Tianqiao's entertainment empire dream has spanned many sub-sectors such as online games, literature, music, film and television, and the emergence of offline physical theme parks has just bridged all the support of the grand entertainment empire.
It is worth noting that Shanda's theme parks have more network elements, which is different from Disney. We know that the theme park is first of all a cultural enterprise, followed by a tourism enterprise. The products provided by the theme park are a cultural product that is consumed by tourism. The characteristics of culture determine that cultural products should have distinctive characteristics. Shanda has the advantages of online games and content. The introduction of online culture into theme parks is also a distinct transformation, which will bring the bond of Shanda's entire industry chain. (Communication World Network)
Introduction:
Rawhide Bone Production Machine could produce pet bone with rawhide as raw materials.
Technical Parameters
| | |
| --- | --- |
| Project | DR-20T |
| Liquid Pressure of Work | 14-21Mpa |
| Theory Output | 5-20t |
| Working Surface Size | Left and Right 500mm |
| Working Surface Size | Front and Back 400mm |
| Height of Working Table to the Ground | 780mm |
| Biggest Operational Height | 400mm |
| Close Height | 200mm |
| Cylinder Stroke | 200mm |
| Motor Power | 5.5kw |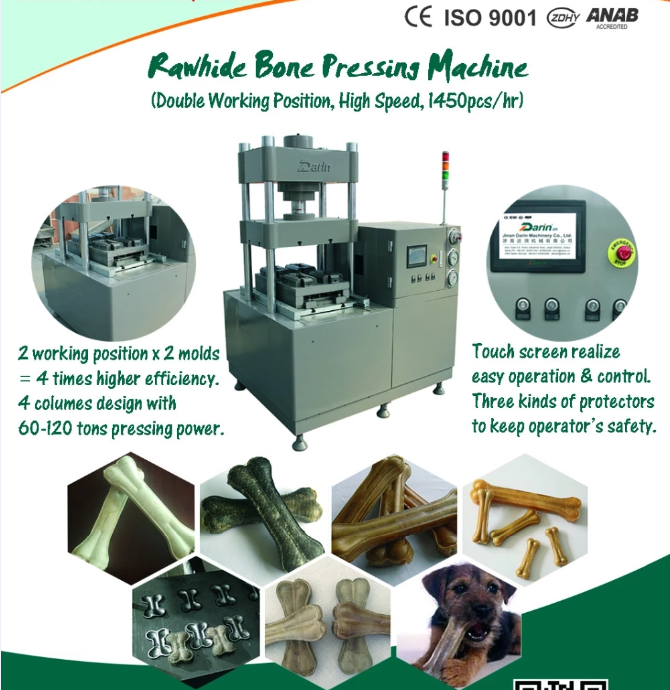 Rawhide Bone Pressing Machine,Rawhide Dog Bone Pressing Machine,Dog Chews Rawhide Making Machine,Rawhide Knotted Bone Pressing Machine
Jinan Multinet International technology and Trade Co.,Ltd , https://www.jnpetmultinet.com